Ultimate Car Factories
Category

Documentaries

Type

Documentary

Language

English

Total size

5.5 GB

Uploaded By ShinkFive
Downloads

790

Last checked

1 month ago

Date uploaded

1 month ago

Seeders

11

Leechers

14
Infohash : 9F6270704E7647C8BB345D19B3989446BC6AE86E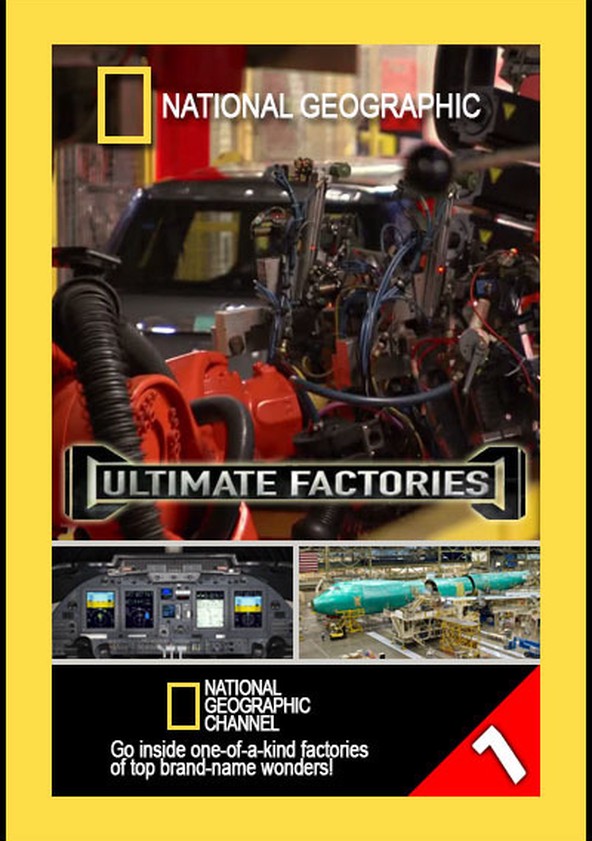 Encoded by and thanks to [email protected]


Ultimate Car Factories
Take a look inside the heart of some of the world's most iconic cars and tour the state of the art production plants that produce these elite automobiles.


Season 1

Part 1: Audi
The Audi R8 is a masterpiece; a supreme feat of design engineering and automotive genius. Audi has combined all of its engineering innovations over the last few decades into this one sports car all wheel drive, an ultralight aluminum space frame and high-tech fuel injection. It is the embodiment of Vorsprung durch Technik. Audi design engineers took more than inspiration from their multiple Le Mans winning cars. Compare the R8 with its race-winning parents the most successful ever and you'll notice some distinct similarities. It's not just the R8's stunning looks that make it such a desirable vehicle. Its mighty V8 engine propels you from 0-60 mph in 4.6 seconds and on to a top speed of 187mph. Go inside the special area of the Audi factory in Neckarsulm, Germany and follow in detail, the crafting of this extraordinary sports car.


Part 2: Ferrari
Watch the creation of one of the world's most famous sports cars, the Fiorano 599 the fastest, most powerful production car Ferrari has ever built. It was designed with several specific objectives in mind: to increase driving pleasure, to guarantee performance (courtesy of technology transfers from the F1 single-seaters) and to ensure comfort, ergonomics and safety. The new Ferrari 599 GTB sprints from 0 to 62mph in 3.7 seconds and has a top speed in excess of 205 mph. The car takes its name from the Fiorano circuit Ferrari uses to hone the performance of its track and road cars. From start to finish, fabrication will take about two weeks. Watch the spectacular processes brought to life by unique close-up lenses and threedimensional computer graphics as Ferrari engineer and assemble the ultimate sports car. Ferrari pumps out only 17 cars a day, making a long waiting list for these elite cars.


Part 3: Lamborghini
The Murcialago LP 670-4 SuperVeloce is a proper send off for the flagship model in the car maker's already awesome line up. Typical of Lamborghini special editions, the only thing it lacks is restraint. The SV's V12 engine launches it from 0 to 62 mph in just 3.2 seconds and can achieve a top speed of 212 miles per hour. Just 350 will be made of this lighter and more powerful version. The factory builds the car almost entirely by hand including its engine and the installation of the famous Lamborghini scissor doors. Every car is custombuilt to order and less than 3 cars are completed per day. Journey inside Lamborghini's factory in Santa'Agata Bolognese, Italy and witness the building of their fastest car ever the Murcialago SV.


Part 4: Porsche
Rolling of the assembly line and taking the world by storm in 1964, the Porsche 911 is now one of the world's iconic sports cars. Since its introduction it has undergone continuous development, though the basic concept has remained little changed throughout its evolution. Still produced on the same grounds that gave birth to the first 911, this car has grown to 17 variations, from the modest 911 Carerra with a top track speed of 180 mph to the 911 GT2 RS, a street legal racecar that tops out at 205 mph. Journey inside the Porsche factory in Stuttgart and witness these iconic cars being built to unique specifications.


Part 5: Rolls Royce
Phantom is the first Rolls-Royce motorcar to be introduced since the company was acquired by BMW in 1998. It is a Rolls-Royce for the 21st Century. Each Phantom is a unique combination of state-of-the-art technology and Old-World craftsmanship constructed with meticulous attention to detail. Designed without compromise, Phantom is the result of complete creative and engineering freedom. Created with the desire to build the best car in the world, it takes an average of 450 hours and the skills of hundreds of dedicated craftspeople, artisans, designers, engineers, mechanics, painters, sewing machinists and others to hand-build each car. Phantom's unique, advanced aluminium space-frame is hand-welded from over 500 separate parts, with over 100 metres of weld. Incredibly light but strong, it is both stiff and dynamic. When combined with the state-of-the art suspension technologies, it creates the air-cushioned 'magic carpet ride' that is unique to Rolls-Royce. Look inside the spiritual home of Rolls-Royce Motor Cars, at the assembly plant at Goodwood and see the best car in the world being built.



Season 2

Take an in-depth look at the production lines rolling out some of the 21st century's hottest sets of wheels, as this series reveals the design and construction wonders taking place in some of the planet's biggest industrial plants. From factory floor to worldwide design fame, Ultimate Car Factories: is the true story of the planet's greatest factories.

Part 1: Chevrolet Camaro
The world is full of technological marvels, but what's often overlooked are the equally impressive factories in which these masterful machines are constructed. American car giant Chevrolet are reintroducing the Camaro after more than seven years out of production. It's an iconic vehicle and a masterpiece of modern production techniques that requires a cutting edge facility to transform raw materials into a driver's dream. That facility is a stunning 8.5million-square-foot assembly line, a megafactory which fuses cutting edge technology and high precision robots to produce one of the hottest sets of wheels about. The Chevrolet Camaro has been a classic "muscle car" for more than 40 years, but what does it take to build a classic car with 21st century technology? Now, after seven years off the factory line, Chevy is reintroducing the 2010 Camaro SS. National Geographic visits the 8.5-million-square-foot factory–one of the largest auto plants in the world–where the car is stamped from cold raw steel and assembled by high-tech, precise robots and nearly 5,800 employees, to create the car's specially-designed "unibody" construction.


Part 2: Chevy Volt
The soon-to-be-released Chevy Volt electric car just might redefine the automotive world: It can go from 0 to 60 in less than nine seconds, hit a top speed of 100 miles per hour and is good for 40 miles of zero-emission, pure electric driving. National Geographic got a rare, behind-the-scenes look inside the preproduction factory for this revolutionary vehicle. At GM's 200,000-square-foot facility outside of Detroit, Michigan—a place closely guarded for fear of industrial espionage—see what it takes to design, build, and assemble this car of the future. At this high-tech "Ultimate Factory", 18,000 parts and 1,000 hours of aerodynamic testing come together to create the Volt. And, at the heart of this revolutionary design is a 6-foot long, 400-pound battery that GM hopes will usher in a new era of automobiles.


Part 3: Armoured Car
Armoured Car the processes involved in making armoured cars and how they are modified to provide maximum protection for everyone they are a must if you are a world leader, but now even mums are starting to use them. Tough enough to resist gunfire, fast enough to evade ambush, strong enough to repel ammunition strike-back. Find out what it takes to build these fortresses on wheels.
Files:
Ultimate Car Factories
Season 1
National.Geographic.Ultimate.Car.Factories.1of5.Audi.XviD.AC3.MVGroup.org.avi (700.5 MB)
National.Geographic.Ultimate.Car.Factories.2of5.Ferrari.XviD.AC3.MVGroup.org.avi (700.8 MB)
National.Geographic.Ultimate.Car.Factories.3of5.Lamborghini.XviD.AC3.MVGroup.org.avi (700.9 MB)
National.Geographic.Ultimate.Car.Factories.4of5.Porsche.XviD.AC3.MVGroup.org.avi (700.5 MB)
National.Geographic.Ultimate.Car.Factories.5of5.Rolls.Royce.XviD.AC3.MVGroup.org.avi (701.0 MB)
Season 2
National.Geographic.Ultimate.Car.Factories.Series2.1of3.Chevrolet.Camaro.PDTV.XviD.AC3.MVGroup.org.avi (701.6 MB)
National.Geographic.Ultimate.Car.Factories.Series2.2of3.Chevy.Volt.PDTV.XviD.AC3.MVGroup.org.avi (701.6 MB)
National.Geographic.Ultimate.Car.Factories.Series2.3of3.Armoured.Car.PDTV.XviD.AC3.MVGroup.org.avi (701.9 MB)
Torrent_downloaded_from_siteevangelico.net.txt (0.0 KB)
Torrent_downloaded_from_Demonoid_-_www.demonoid.pw_.txt (0.1 KB)
Code:
udp://tracker.leechers-paradise.org:6969/announce

udp://tracker.coppersurfer.tk:6969/announce

udp://tracker.opentrackr.org:1337/announce

udp://eddie4.nl:6969/announce

udp://inferno.demonoid.pw:3391/announce

udp://tracker.coppersurfer.tk:6969

udp://tracker.opentrackr.org:1337/announce

udp://tracker.tiny-vps.com:6969/announce

udp://tracker.vanitycore.co:6969/announce

udp://tracker.leechers-paradise.org:6969